Sarah grew up riding within the New Forest Pony Club Branch, first learning to ride at the age of 5. As a mere 16 year old, Sarah trained under Morgan Lybbert, an AQHA Judge, competitor and Rodney Tulloch, also a World class competitor and trainer for 4 months intensive training in Alberta, Canada. Disciplines covered - Working cow horse, Reining,Trail, Pleasure, Showmanship, Hunter Under Saddle and Hunt Seat Equitation.


Returning to the UK with 5 Quarter horses in tow, Sarah competed at the European Western Riding Championships in Germany, where she became the European Champion at both Youth Western Pleasure and Showmanship champion.

Sarah was employed by Bob Mayhew teaching lessons, giving public demonstrations and showing clients' horses. Part of the filming of Bob's first training video co-starred Sarah and took place at the Gleneagles Mark Phillips Equestrian Centre in Scotland. Shortly afterwards, Sarah was approached and offered the position of Western/ English coach responsible for introducing Western Riding and promoting/selling imported Albertan-bred Quarter horses. At this prestigious world famous centre, Sarah also worked and trained with some of the very best.... William Micklem FBHS, Stephen Hadley, Jennie Loriston-Clarke, Ian Stark and the Captain himself.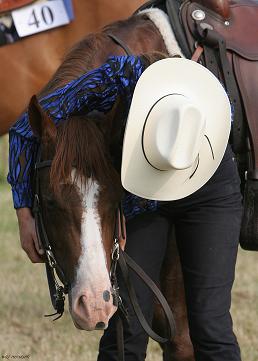 One of Sarah's most memorable occasions was performing a bridleless demonstration on her own horse Frostie Five Alive for HRH Princess Anne.

Headhunted from Gleneagles and whisked off to Canada, she spent the next four years running a 50 horse livery/riding school in Edmonton and also worked under Ron Burke, a TB racehorse trainer, preparing and helping back youngsters for the Edmonton and Calgary racetracks.

On return to England, Sarah completed the new 10 week Monty Roberts residential course, bought herself a 3 year old Thoroughbred, backed him, evented him and sadly sold him for a much needed roundpen. Since then, Sarah has been a freelance instructor and takes a limited number of clients' horses for backing/re-schooling for English or western disciplines.

Under the umbrella of 'instructor', Sarah's vocation leans towards the Natural approach to Horsemanship. She has attended and studied many philosophies/methods including Pat Parelli, Mark Rashid and Kathleen Lindley. Sarah's western roots were nurtured by Bob Mayhew and other well-known Western trainers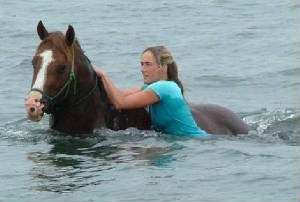 Sarah's philosophy to riding and horsemanship is simple. As she puts it: " Some horses have owners who are more than satisfied with a safe, fun hack at the weekend whereas others may want to qualify for Wembley. As most of us have horses for leisure as opposed to having to make a living from them, one of the most important things is to feel good about WHAT we achieve and HOW we achieve our goals.


It is more rewarding to use psychology rather than force to have our horses work with us as partners. Many people have learnt to show before they can ride well and learnt to ride before having built a strong relationship with their horse, sometimes not even understanding the basics of horse behaviour. Ideally this learning curve should be reversed! Really we as humans often put our goals in front of our principles and that is when the picture collapses. Building a solid foundation based on mutual trust and respect should be a way of ensuring a safe and successful future in whatever discipline we choose".

After many years of working in the equine industry Sarah's passion focuses on the foundation training of youngsters and helping solve behavioural problems. Attending one of her clinics is fun and educational. Learning how to break down goals into small and achievable steps is the key to progress whether wanting to go hacking safely or competing on the show circuit. Sarah believes that "It is better to have tried and failed than to fail to try". The word "Can't" better be followed by "yet" and her working mantra is "NEVER SAY NEVER, ALWAYS SAY MAYBE!"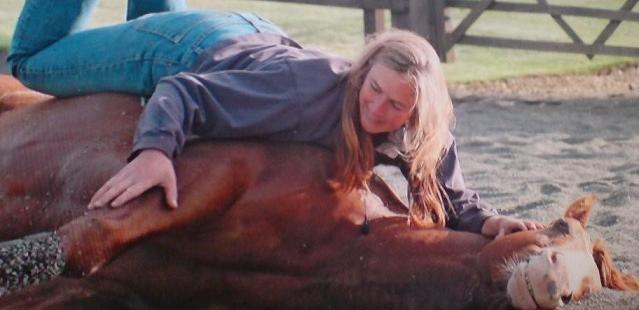 Chilli and Sarah take a well earned rest!